Step: 1
Some - values and their corresponding - values are given in the table.
Step: 2
Plot the values in a graph and draw a straight line through the plotted points.
Step: 3
The graph will look like the one below: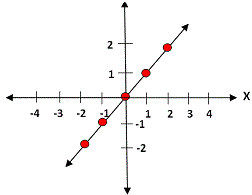 Step: 4
We find that the above graph is the same as Graph 4 in the given choices.
Step: 5
So, we can say that Graph 4 represents the given table.
Correct Answer is : Graph 4