Definition Of Isosceles Triangle
When the two sides of a triangle are equal, then the triangle is called as an Isosceles Triangle.
More About Isosceles Triangle
The diagonals of an Isosceles Triangle are equal.
In an isosceles triangle, the two angles are equal.
Video Examples: Trapezoids : Isosceles Triangle
Example of Isosceles Triangle
â–³ABC is an isosceles triangle as sides AB and AC are equal and also ∠ABC and ∠BCA are equal.
Solved Example on Isosceles Triangle
Ques: Which of the following is an isosceles triangle?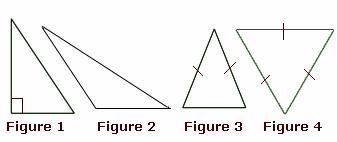 Choices:
A. Figure 2
B. Figure 4
C. Figure 1
D. Figure 3
Correct Answer: D
Solution:
Step 1: A triangle with two equal sides is known as an isosceles triangle.
Step 2: Among the figures shown, the figure 3 has two equal sides.
Step 3: Therefore, figure 3 is an isosceles triangle.