Definition Of Congruent
Congruent means having the same measure.
More About Congruent
Congruent angles are angles that have the same measure.
An equilateral triangle has all its angles measuring 60°. So, the angles of an equilateral triangle are congruent.
A square and a rectangle have all their angles measuring 90°. So, the angles of a square and a rectangle are congruent.
Congruent Figures have the same shape and size.



Congruent Segments have the same length.


Video Examples: Congruent
Solved Example on Congruent
Ques: Line CD bisects another line AB at point P. Name any two congruent angles formed.
Choices:
A. Angles APD and CPD
B. Angles CPB and APD
C. Angles APB and APD
D. Angles CPB and CPD
Correct Answer: B
Solution:
Step 1: When a line bisects another line, four right angles are formed.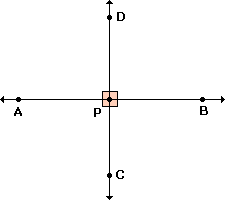 Step 2: Two such angles are angle CPB and angle APD.