Step: 1
Draw the tree diagram to find the sample space.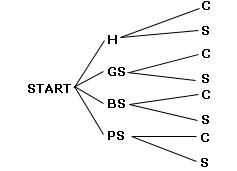 Step: 2
The possible outcomes are (H, C), (H, S), (GS, C), (GS, S), (BS, C), (BS, S), (PS, C) and (PS, S).
Step: 3
So, there are 8 possible combinations of sandwich and ice cream that Joe can serve to each of his guests.