Velocity
Definition of Velocity
The displacement of an object in a specific time is known as velocity
(Or) Speed of an object in particular direction.


Example: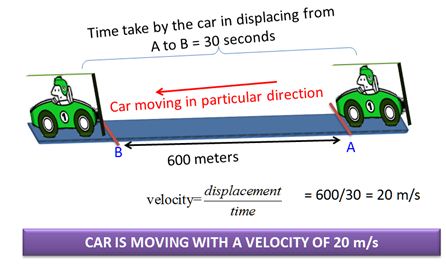 More About Velocity:
Displacement is measured in meters and time in seconds hence velocity is measured in m/s.
Displacement is the path covered by a body in a particular direction. Therefore velocity is the speed of a body in particular direction.
Direction of the body is must for measuring the velocity.
Velocity of an object is high when an object covers large displacement in short interval of time.
Worked Example:
An object displaces 300 meters in 30 seconds. What is the velocity of the object?

A. 100 m/s
B. 10 m/s
C. 30 m/s
D. 1 m/s
Correct answer is B.
Solution
Step 1: Velocity = Displacement / Time
Step 2: displacement = 300 meters
Step 3: time = 30 seconds
Step 4: Velocity = 300/30 = 10 m/s