rectangular prism
Definition of Rectangular prism
A prism with six rectangular faces is called a Rectangular prism.
More about Rectangular prism
Opposite faces of a rectangular prism are equal and parallel.
Volume of a rectangular prism = length × width × height
Surface area of a prism = 2(lw + wh + lh), where l is the length, w is the width, and h is the height of rectangular prism.
Example of Rectangular prism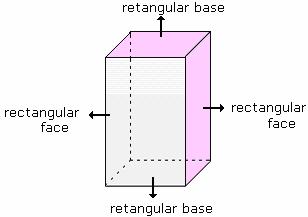 The above solid has two rectangular bases and all its faces are rectangular.
Solved Example on Rectangular prism
Which figure is of a rectangular prism?

Choices:
A. Figure 1
B. Figure 2
C. Figure 3
D. Figure 4
Correct Answer: B
Solution:
Step 1: A rectangular prism is a solid in which there are two parallel and congruent surfaces and rest all faces are rectangular.
Step 2: Here, Figure 2 represents a rectangular prism.

Related Terms for Rectangular prism
Base
Face
Polyhedron
Prism
Rectangle
Solid